This is the Trip Report for my drive to Colorado Springs and back in November 2001.
Wednesday
I left San Diego at around 5:00 a.m. to avoid traffic and it only took me five hours to drive to Las Vegas. It took me less time than that to lose my budgeted gambling money playing craps. But that didn't happen until after dinner. I spent the day eating buffet and walking around Vegas. I went to go see "The Star Trek Experience" at the Hilton, but it turns out it costs $25. I didn't think that was worth it for a simulated virtual ride. Instead I wandered around the Star Trek bar (Quark's), the Star Trek mall (the Promenade), and the Star Trek museum. After dinner -- another buffet -- I gambled and lost and went to my room.
Thursday
In the morning, before leaving Vegas, I dined at yet another fabulous buffet. Then I was on the road. The drive north from Vegas on Interstate 15 was relatively painless and not very scenic, but it wasn't long before I reached the junction to I-70. That junction, of two very major interstate highways, is surprisngly, in the middle of nowhere. There is no town for miles in any direction. I thought there would be *something* there. I spent the afternoon driving east through Utah, admiring the views of tremendous red rock formations.
Just before nightfall, I found Green River State Park, the campground that was my goal for the day. I pitched my tent, started a campfire, cooked my dinner (mac 'n' cheese), and relaxed.
Friday
I crossed the Colorado border in the morning. The scenery on the Colorado part of the drive was quite different, but just as picturesque. For a long time, the road paralleled the Colorado River and the views through Glenwood Canyon were spectacular. Unfortunately, there were not many "view areas" to stop for pictures. After that, it was the snow capped Rocky Mountains. Fortunately, it was a crystal clear day.
On the other side of the Rockies, I caught my first site of Denver, under a blanket of brown smog. I skirted the city on my way to Colorado Springs where I met up with David. We had a nice dinner and didn't do much else on Friday.
Saturday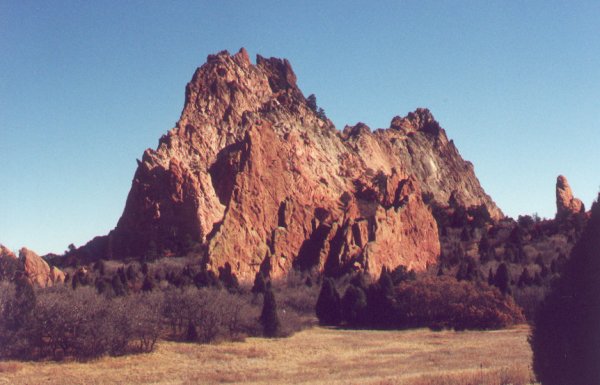 A rock formation at Garden of the Gods
We started out with a plan to visit Rocky Mountain National Park. However, we got a late start and got stuck in a massive traffic jam leaving town. We postponed the trip until the next day and visited Garden of the Gods Park instead. Garden of the Gods is a huge city park in Colorado Springs. It's filled with rock formations, wildlife, and trails. There seemed to be a lot of local rock climbing going on as well, but we stayed on the ground.
For dinner, we ate at a totally empty but really great pizza place in Colorado Springs called Billy's. David assured me that it is usually much more crowded, and I believed him. The food was great and I recommend it if you are in the area. The way to order at that place is to have the buffet (I guess that was the theme for the trip).
Sunday
We got an earlier start and didn't hit traffic on our way to Rocky Mountain National Park. We only spent the day there, but we had time for a hike to Nymph Lake, Dream Lake, and Emerald Lake. It was a few hours round trip and the scenery was great. We also drove around the park a bit and saw some wildlife and other sites and vistas. We ate dinner in Boulder on the way back.
| | | |
| --- | --- | --- |
| | | |
| Dream Lake, partially frozen | Emerald Lake, completely frozen | David, mostly frozen |
Monday
Monday David had to work so I headed back west. I drove all day although I stopped a few times to take more pictures. I didn't want to take three days to get back, and since I had seen much of the area in daylight on the way east, I drove into the night in order to reach Quail Creek State Park, almost to St. George.
The campground was on the shore of a man-made lake and the campsites were very clean and new and were made out of cement and well groomed dirt. I had my little campfire and dinner, but slept in my car rather than my tent, to save time breaking camp in the morning. During the night, I had to stretch to reach the car's ignition switch so I could roll up my power windows. It was pouring rain and thundering and lightninging (is that a word?).
Tuesday.
Of course I stopped in Las Vegas again on the way back, but only to stuff myself at another buffet -- you know, for the drive. I got back home Tuesday night, no worse for wear, but needing a little exercise (see "buffet" above).