This is the Trip Report for my trip to Japan in June 1998.
Click on the pictures for the full size versions.
Saturday
My plane took off in the morning gloom that is normal for San Diego this time of year. Just as I was about to pick out my house from the window of the plane, we flew into the marine layer and I lost sight of everything on the ground. It was a much sunnier day above the clouds and it stayed that way all the way to San Francisco, and then to Japan. Even though the whole trip was in daylight, I didn't land until Sunday afternoon, since we crossed the date line. The 10 hour flight over the Pacific was uneventful. I was in an aisle seat, but across the aisle from me was the wall of the galley, so even though the plane was a 747, it was a little claustrophobic.
Sunday
Jeff met me at the airport with his two sons, Andrew (4) and Theo (2), in tow. I took care of some things at the airport, like exchanging money and picking up a 7-day rail pass, and Jeff tried to keep Drew and Theo amused. We got on a train at the airport train station and started the journey to Jeff and Anne's house just outside Tokyo.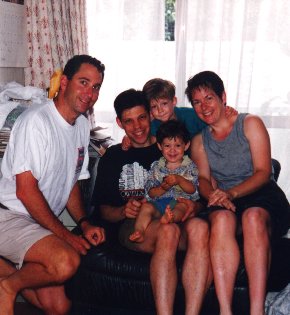 Me and the Isaacs-Borcherts in their house
They live in a guest house behind the home and medical clinic of a Japanese couple they know, a few minute's walk from the train station. It's a two room, wood floor, typical (I think) Japanese style house of about 600-700 square feet. They found a corner for me to unpack and I turned over the "loot" I'd brought with me: wine from Jeff's dad, salsa, a big tub of oatmeal, and some other goodies from the states.
After a brief rest, we strapped the boys, some umbrellas, and assorted necessities onto three bikes and pedaled through a little drizzle to a neighborhood sushi establishment. We dined at a low table on the floor and had a delicious dinner.
Monday
I don't know if it was the hours on the air-conditioned plane, or the beer and sake from dinner, or a combination of both, but I awoke with a terrible sore throat that would plague me for the rest of the week. I bought some cough drops that morning at the train station on our way into the city, after dropping the kids at school/day-care.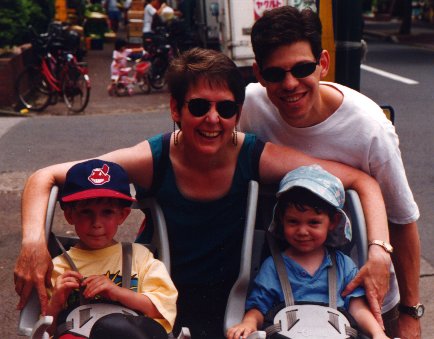 Anne, Jeff, Andrew, Theo, and bikes
Jeff, Anne, and I went to Yadabashi Camera, a photography equipment store of some repute. Surprisingly, nothing was any cheaper, and some things were much more expensive, than the same things in the U.S. Even the Japanese-made cameras were pricier, despite the falling yen.
After lunch, we spent the afternoon in one of Japan's famous department stores. This one was about ten stories tall and has a supermarket with a bakery in the basement. It also houses an entire stationery store, hardware store, gourmet cooking store, sporting goods store, and hobby shop, in addition to the expected clothing, jewelry, furniture, and other departments you'd see in a department store in the U.S. Oh, and it also has a food court. It's as if one store owned a whole mall.
Tuesday
Jeff and I got up early to go visit Japan's famous Tsukiji ("skee-jee") Fish Market. Most, if not all, the fish eaten in Japan goes though this immense market. Fishermen arrive before dawn and auction their catch to wholesalers. Wholesalers sell the fish to retailers and restaurants at one of thousands of stalls in the market. It's a beehive of seemingly random activity. Anne met us for brunch at a sushi bar in one of the shops adjacent to the market. It was the best sushi I had on the trip.
| | |
| --- | --- |
| | |
| At this booth in the fish market, the nicest piece of this ahi tuna was over $20 per pound wholesale | Just Eels |
In the afternoon, Jeff and I went into the area in Japan where all the restaurant supply stores are. I wanted to look at stuff and I ended up buying a sushi knife.
Wednesday
Jeff went to work and Anne gave me instructions on how to get to Ueno Park by train. The park is where many of Tokyo's museums are located. I spent a while in the Tokyo National Museum. I saw some pretty incredible swords and other weaponry, and a lot of Japanese calligraphy. Plus they had ceramics, lacquerware, clothing, books, metalwork and lots of other exhibits. It was as if they dug up the ten story department store I saw Monday but from the 11th (through the 19th) century.
I also visited the Tokyo National Science Museum, which was interesting, but nothing special. I got a much better science lesson later that night at Jeff and Anne's house. We were rocked gently by a 4.7 magnitude earthquake. Nothing broke.
After the museums, Anne met me and took me to meet Jeff and a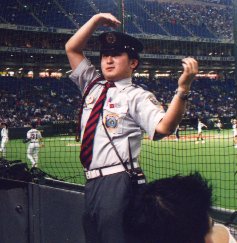 They do sing "YMCA"
friend of his at Tokyo Dome, also known as The Big Egg, for a Japanese baseball game. It was a good game. The Fighters beat the Hawks 9-3 and was pretty much the same game they play in the U.S., with minor differences. The two outfield sections have designated rooting sections for groups of synchronized cheerers. Also, they don't sing a national anthem before the game, and there's no seventh inning stretch.
Thursday
Anne and I visited some popular and fashionable districts and saw some sights and shops. I picked up some souvenirs and then we headed for Tokyo Tower. Tokyo Tower is Tokyo's version of the Eiffel Tower. It's 333 meters tall and you can see for miles from the top, when it's clear. Unfortunately, it was pretty gloomy that day (and for most of my visit) so we only went as high as the observation deck half way up.
By Thursday, I'd been taking cold pills for three days in additon to my cough drops. They were pretty effective at keeping my cold (which is what my sore throat turned into) at bay, but they were wearing me out by early evening every day.
Friday
I accompanied Jeff on his two hour commute to work where he teaches English at a college. I sat in on two of his classes where I, a native English speaker, was his show-and-tell for the day. Half the class took turns interviewing me and being interviewed by me in English. His first class is less advanced than his second. I learned names and hobbies and favorite bands from the first class. In the second, I met, among others, several waitresses and a sailor, an English Literature major interested in Oscar Wilde and an American Literature major interested in Mark Twain, a baseball fan and a cook who thinks she doesn't look like a cook.
The things they were most interested in were how to get to the Grand Canyon if they visit San Diego, and whether America is "dangerous".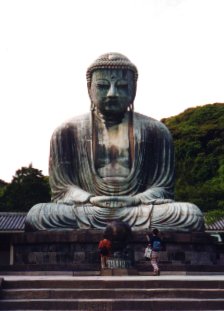 Not just "pretty good"
After school, Jeff and I visited Kamakura where we saw the "Great Buddha". It
was
great. We also tried some purple potato ice cream, on the suggestion of one of Jeff's students. It was also great. It's a delicacy local to that town, and definitely worth trying.
Saturday
We packed the kids onto the bikes, stopped and picked up box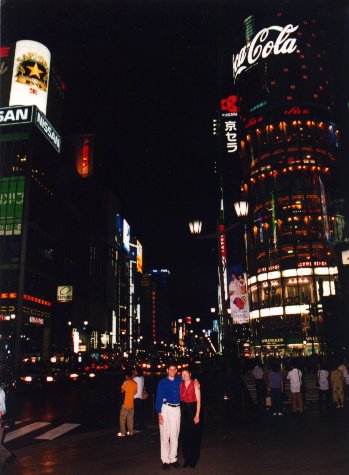 Jeff and Anne and the lights of Ginza
lunches, and pedaled to a park. It was a warm sunny day and the park was pretty big. The boys ran around a lot and played ball (baseball, tennis, soccer). I mostly just relaxed and enjoyed my not having a cold anymore.
That evening, we had dinner with a few of Jeff and Anne's friends at a mildly fancy restaurant. It was the type of place where everyone in the restaurant sits around a big table with two chefs kneeling in the middle. Around the chefs were plates full of meats and vegetables which you order and they cook or prepare for you. Everything was very delicious.
Sunday
We took a few trains to Tokyo's main train station, dragging along my big bags and both kids. After lunch I said my goodbyes, and also made my apologies to Theo who seemed to have caught my cold, and boarded the airport train. The trip back to San Francisco was only nine hours, with a five hour night, but I didn't sleep. We landed Sunday morning, regaining that lost day from the trip west.
I quickly cleared customs and immigration, then flew to San Diego and got home before 1:00 p.m. I even managed to stay awake long enough to play in my 6:00 p.m. softball game, but slept about 14 hours that night.