SAN DIEGO TO MT. WHITNEY
Trip report and pictures from the bicycle trip and hike from San Diego to Mt. Whitney, September 2005. Click on any picture to see a full sized version.
Day 1
Start: Pacific Beach
Time: 7:45 a.m.
End: San Clemente
Time: 2:00 p.m.
Miles: 53
Cycling Time: 4 hrs 25 min
Avg Speed Cycling: 12.1 mph
Avg Speed Incl Rests: 8.5 mph
Richard and I had our bikes all packed the night before, so there wasn't too much setting up to do in the morning. We got a reasonably early start, while it was still a little overcast, and without much fanfare, we were on our way. Our first stop was for breakfast in Encinitas and by then, the sun was shining.
On the way to Oceanside, we debated a little about whether to ride through Camp Pendleton or to take Interstate 5. Camp Pendleton, formerly open to bicyclists, was closed to non-military traffic for several years following 9/11. It reopened to bicyclists this year. In the intervening years, I discovered that the detour onto the I-5 shoulder was several miles shorter and less hilly, while being considerably noisier. In the end, shorter won out over quieter.
Another decision was whether to ride to the familiar but inhospitable campground at Dana Point, or stop seven miles earlier at the unknown campground at San Clemente. Because it was Labor Day weekend, we decided to stop at San Clemente first and check it out. If they had room and it was nice, we'd probably stay, but if they were full or it was cruddy, we'd keep going. We figured we wouldn't have the same options if we went to Dana Point first—neither of us would want to go seven miles back.
San Clemente turned out to be the much better choice. The hiker/biker campsite was 50 times larger than the site at Dana Point. Also, the train tracks were not right on top of us, and there was a little market nearby where we bought some food for dinner.
Day 2
Start: San Clemente
Time: 8:00 a.m.
End: Northridge
Time: 8:45 p.m.
Miles: 100
Cycling Time: 9 hrs 4 min
Avg Speed Cycling: 11.0 mph
Avg Speed Incl Rests: 7.8 mph
We knew it would be a long day so we got on the road early again. The morning was uneventful, although a bit hilly through Newport Beach and Laguna Beach. Also, I had one flat tire. It's a route we've done many times before. After the Long Beach traffic circle, it's sort of glum through Wilmington and Lomita, but in Redondo Beach, we hit the beach bike path and from there, it's miles of ocean front.
I had a bit of an upset stomach at that point, but we pressed on. I think it might have been a little bit of dehydration. Despite that, by the time we got to Santa Monica, we decided to keep going to Northridge instead of trying to find a friend or relative to stay with nearby.
That meant another couple hours, arriving in the dark, and having to climb the Sepulveda Pass into the San Fernando Valley. This was not my favorite part of the ride. When we finally arrived at my folks' house in Northridge, we had accumulated 99.72 miles. Richard might have suggested riding around the block a few times to break 100, but I'd had enough and he didn't argue too much.
We ordered pizza delivery, showered, and slept.
Day 3
Start: Northridge
Time: 10:00 a.m.
End: Rosamond
Time: 7:00 p.m.
Miles: 67
Cycling Time: 6 hrs 3 min
Avg Speed Cycling: 11.1 mph
Avg Speed Incl Rests: 7.4 mph
Note: sorry about the lack of pictures so far. I just didn't take any. I guess there's nothing too photogenic about Wilminton, Lomita, etc.
Climbing the hills to get out of the San Fernando Valley wasn't too much of a challenge. There were steep parts, but it wasn't too hot and there were downhills to go with most of the uphills. Leaving the Santa Clarita Valley was quite a different story.
The hill leaving Canyon Country started with a mild uphill grade and continued that way, without a break, for the next four hours. I don't remember a downhill section, or even a flat spot, until we finally approached Acton on the outskirts of the Antelope Valley. Also, it was hot. Fortunately, we were prepared. We had enough water and our legs were strong (enough) from the two previous days of warming up.
From Acton, the terrain was dead-flat through Palmdale and Landcaster and we had a bit of a tailwind. Camping areas were not too abundant. I voted for pushing on to the L.A. County line (you don't mess with a tailwind.) Richard would have had us stop at a motel in Lancaster if we'd seen something "corporate" with a reasonable chance of being clean. Since we didn't see any, we ended up at "Bub's Motel" (not its real name) in Rosamond, just into Kern County.
Day 4
Start: Rosamond
Time: 9:45 a.m.
End: Pearsonville
Time: 6:15 p.m.
Miles: 71
Cycling Time: 5 hrs 18 min
Avg Speed Cycling: 13.4 mph
Avg Speed Incl Rests: 8.4 mph
This was our first day of "you guys are just plain crazy riding your bikes across the desert." Someone did actually say that to us, and they might have been right. The morning was pretty easy, but after leaving the town of Mojave, we didn't do much besides just ride through the desert. Again, we had plenty of water, but after a few minutes, all we had to drink was hot water. Despite the heat, it was a pleasant enough ride. The only tough part was a ten-mile hill.
The route was on Highway 14 and we had zero problems with traffic or having enough room. The only minor inconvenience was my inability to choose tires robust enough for touring. I had two flats during the day.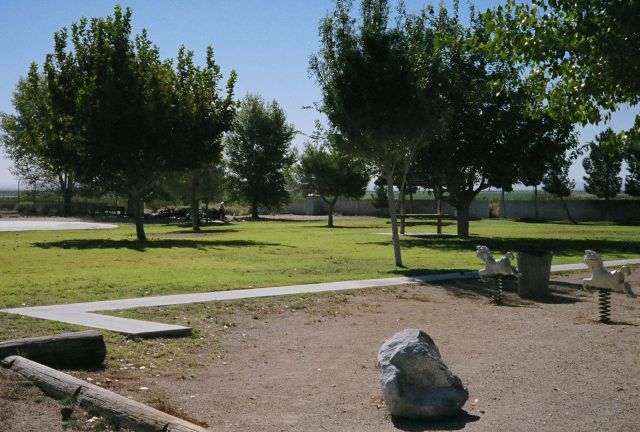 Park/Campground in Pearsonville
Based on a recommendation from the California Highway Patrol, we rode into Peasonville intending to camp at the local park. It turned out to be a good recommendation. After Richard deduced the presence of sprinklers based on the presence of green grass, we set up our tents and had a nice stay. The night was pleasantly cool and Richard only had to move his tent twice after it got soaked by the spinklers (they spray farther than the edge of the grass.)
Day 5
Start: Pearsonville
Time: 11:00 a.m.
End: Lone Pine
Time: 6:00 p.m.
Miles: 59
Cycling Time: 4 hrs 16 min
Avg Speed Cycling: 13.9 mph
Avg Speed Incl Rests: 8.4 mph
From Pearsonville to Lone Pine, the ride was easy and short. To make up for that, we had a tailwind. I had one more flat and then swapped my tire for the sturdier spare I was carrying. We stopped just before Lone Pine to check out a campground, but decided to press on and stay at Portagee Joes, a campground just slightly up the Whitney Portal Road from Lone Pine.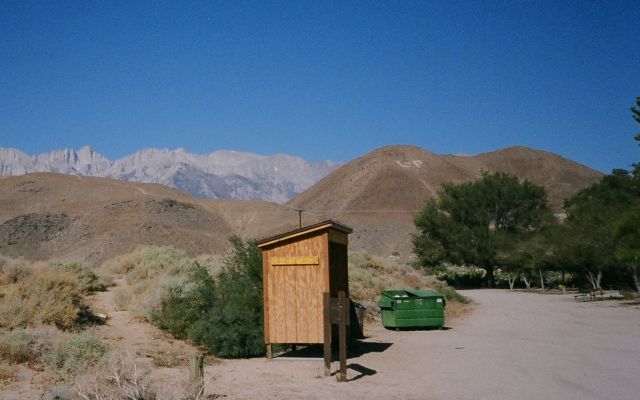 We really could see Mt. Whitney. That's it on the left.
We were a little worried about having to start up the hill and we also didn't really want to head back down the hill for breakfast in the morning. That would mean having to go back up. But we worried for nothing. The campground was only a few hundred yards up the hill. We shopped for groceries for dinner in Lone Pine and cooked in camp under the shadow of Mt. Whitney.
Day 6
Start: Lone Pine
Time: 11:15 a.m.
End: Whitney Portal
Time: 3:30 p.m.
Miles: 13
Cycling Time: 2 hrs 55 min
Avg Speed Cycling: 4.6 mph
Avg Speed Incl Rests: 3.1 mph
We saved the last day for the ride up the hill from Lone Pine to Whitney Portal. First, we stopped for breakfast at the Mt. Whitney Restaurant ("get a cup of crank and blast up that hill!")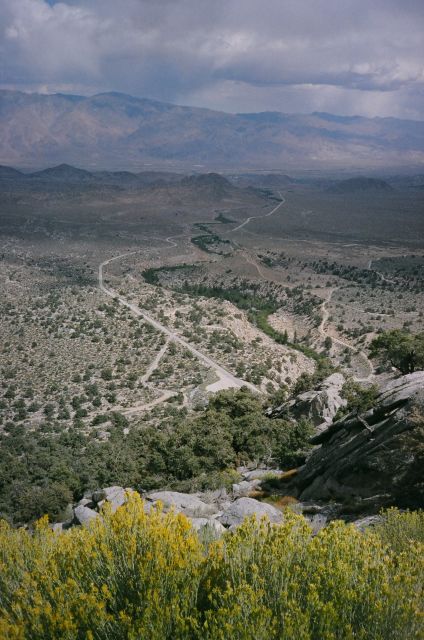 The road is steeper than it looks in this picture.
It's hard to describe the ride up the hill. It's twelve miles long. It's very steep. Most of it is straight, without a lot of twisting and turning, though there are a few switchbacks. I started out at about 6 mph for an hour. Then 5 mph for the next hour. Then 4. Then 3. I stopped about every half-hour, just to rest. I stopped for 25 minutes and hid under my jacket while it rained for a little while. By the time I reached the top, I had used even my lowest, easiest, slowest, granny gear. I probably would have used a lower one if I'd had one.
The best part of reaching the top is the showers at the Whitney Portal store. Also, the beers at the Whitney Portal Store. Richard and I had one of each.
Here are some pictures Laura took of us as we rode up the hill.
| | | |
| --- | --- | --- |
| | | |
| Richard looks happy here. He's not. | | An optical illusion makes it look like I have no helmet. How curious. |
Total
Miles: 366 - Avg Miles/Day: 61 - Flats: Richard 0, Bruce 4
Click here to see some pictures from the hike.