This is the trip report for the Badwater to Mt. Whitney bike ride and hike in September 1999
Click on the pictures for the full size versions.
Saturday
Deborah and I left San Diego at about 5:00 p.m., after her final exam. We got sort of a late start due to a last minute plumbing emergency at my house, but fortunately it wasn't too serious. The drive to Death Valley went smoothly for us, but not so smoothly for the drivers of the vehicles at the sites of the two traffic accidents we passed. The traffic delays were insignificant, and we made fine time.
Deborah, ever the excitable one, was mostly unable to sleep on the drive, despite getting only four hours sleep the night before her final. We were both wide awake when we arrived at Badwater, elevation -283. It was about midnight and the temperature was about 90 degrees.
Sunday Morning
After a few minutes preparation, Deborah started off on her bike. The official start of the ride was 12:42 a.m. I drove on up ahead a few miles to test the range of the two-way radios we brought along. They worked fine two miles away, and we would use them throughout the rest of the morning. She let me know a few times that she needed a wrench to adjust her bike seat. I let her know when I was moving ahead from a location behind her to a rest stop ahead of her.
We reached the 55 mile point, at the traditional sleep spot, just before dawn. Since we had, by design, started the ride much later than in past years, the sleep spot was only used for a 30 minute nap by me. Deborah chose to use the time to clean up a little and refresh herself for the rest of the day.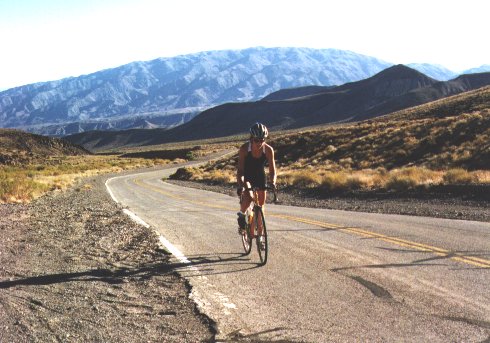 Deborah going up the hill to Townes Pass
The rest of the ride to the top of Townes Pass was in daylight, so the support vehicle stops were a little further apart than they had been in the dark of night. Deborah made it to the top in short order and then flew down the nine mile hill at speeds sometimes over 48 mph. The five miles Deborah rode between the bottom of the hill and the restaurant in Panamint Springs where I waited were particularly grueling. When she arrived at the restaurant, she did not feel well.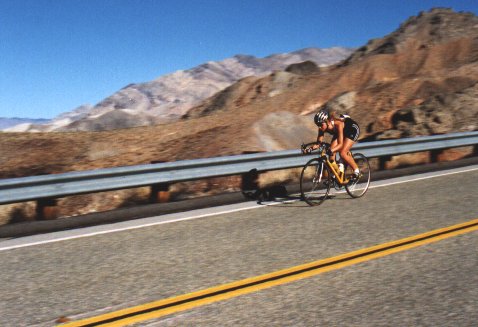 Wheeee! What goes up...
Dehydration was not a problem at all, but I suspect a combination of lack of sleep, heat, not enough eating, and an uncomfortable bike seat wore her out pretty good. After a meal and a short nap at the restaurant, we continued up Darwin Pass. Two hours later, over half-way up the hill, after much internal debate, Deborah decided not to go on.
Sunday Evening
We found a nice campsite at the Whitney Portal campground and both took naps. Several hours later, the camp host came by and tried to tell us the campsite was closed and that we would have to leave. I appealed that it had not been labeled as closed and since now there were no other sites available, we had no place to go. She seemed unsympathetic, but agreed to let us stay until morning, at which time we would have to pack all our things and clear out before starting our hike.
Catherine arrived (with beers!) before dark, and we made a yummy spaghetti dinner and campfire.
Monday Morning
Fortunately, the people in the campsite next to ours vacated before 7:00 a.m. so we moved all our stuff before leaving for the hike. Deborah was still not feeling well enough to hike, so when Catherine and I left, she went back to sleep.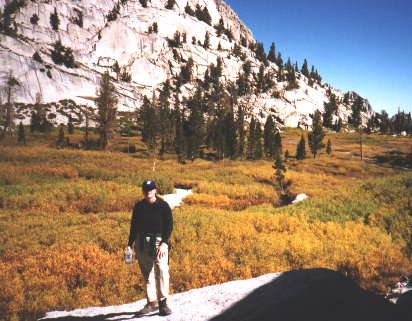 Catherine overlooking a meadow on the way up
Catherine and I started up the Mt. Whitney trail at 8:40 a.m. The campsite difficulties made it unlikely we'd make it to the top, so we chose to take a leisurely pace and turn around when we felt like it. We felt like it earlier than expected, due to tiredness from lack of oxygen (not altitude sickness), but we had a relaxing picnic lunch overlooking Mirror Lake, about 1/3 of the way up at nearly 11,000 feet (estimated).
Monday Afternoon
When we returned to the campsite at about 2:30 p.m., Deborah was back to her normal, chipper, self, having finished her nap and gone for a little walk. We hung out at the campsite for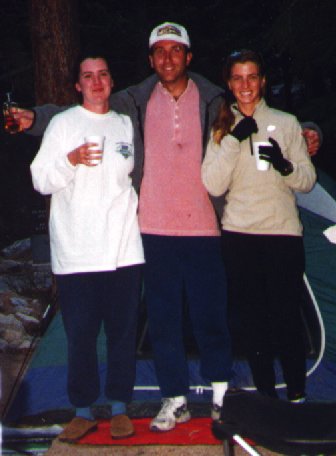 Catherine, Bruce, and Deborah hanging out in camp
the rest of the evening, enjoying the campfire, company, and grilled burgers and dogs—all veggie. It was warm enough that all three of us slept outside the tents that night.
Tuesday
There is nothing much to report about the trip back other than a delightful breakfast at Mt. Whitney Restaurant and a not-delightful near accident between Catherine and an eighteen-wheeler on Highway 395. Fortunately, Catherine only had to brake suddenly to avoid mishap.
All in all, the little difficulties of the trip still added up to an enjoyable vacation, and everyone is looking forward to next year's trip.